The KB Natural Rubber Dock Bumper has a 1/4" thick steel base plate which provides long lasting protection to wooden and concrete dock edges. The bumper can also be used effectively on marine docks, boats, trailers, barges, and many other applications where shock absorption and protection is required. The bumper measures 22" long X 8" wide X 2 1/2" thick. Molded with two 1 1/4" bolt holes on 1/2" centers, 3 5/8" from either end. Holes are counter sunk 1 1/2" deep and 2 5/8" outside diameters.
Natural Rubber (NR)
Advantages: Outstanding resilience; high tensile strength; superior resistance to tear and abasion; excellent rebound elasticity (snap); good flexibility at low temperatures (-40° F to 155° F).
Limitations:
Poor resistance to heat, ozone, and sunlight; very little resistance to oil gasoline, and hydrocarbon solvents; Operating temperatures should not exceed 155° F.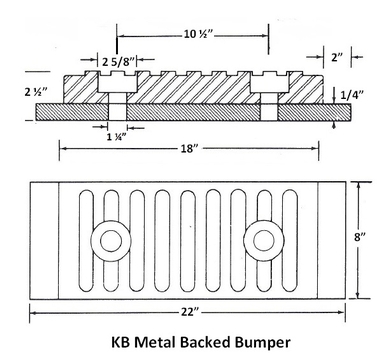 Use the sort keys located at the bottom of the table to find the exact Vibro-Insulator© you require. Please contact us for selection help.