Research & Development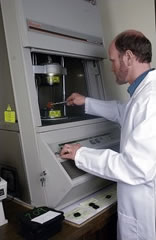 Karman's complete in-house laboratory, staffed by highly-trained technicians, plays an integral part of the development of new compounds, product applications and customer service.
It is here that demanding product performance and critical tolerances are analyzed for the development of specific compounds. Not only can compounding specialists at Karman offer advice on improving product performance, they can often reduce costs by coming up with a less expensive elastomer that will meet all the required specifications.
We encourage you to check with us in the early stages of your product design work. Our advice on the best elastomers from which to produce custom molded rubber and rubber-to-metal products can be a real asset to you. Some of the elastomers we mold are Natural Rubber, Neoprene, EPDM, SBR, Silicone, Fluoroelastomers, and Butyl.

Production...an Inside View
Karman has equipped and designed its production facility to turn out custom molded elastomers and rubber-to-metal products on a high-volume basis.
From the initial preparation of the elastomer stocks to the molding, finishing, and final inspection of parts, there is an efficient production flow that assures on-time delivery. Every piece of equipment... mills, extruders, presses, tumblers, and trimmers... is up-to-date. This modern equipment, combined with Karman's professional expertise, make the company one of the finest compression, transfer, and injection molding facilities in the country.
To stay on top, a perpetual upgrading and maintenance program guards against costly breakdowns and delays.
That's Karman... providing you still another assurance that you will receive the quality service you've come to expect.