K12 Continuous Strip Vibro-Insulator®
The K12 Continuous Strip mount measures the load per linear inch. It is best suited for shear and compression loads.
Features and Benefits:
Easy to install
Long service life and no maintenance
Produced with 50 Durometer Natural Rubber
Loads are calculated per linear inch
Available in 6" and 24" lengths
Best to cut with a power saw and a jig that will hold the K12 in place
The 24" long part weight is 17 pounds
2-D PDF prints are available for each mount
2-D DWG, 3-D IGES, and 3-D SolidWorks are available upon request
Made in the USA
Environmental Data:
All static load test data for the K12 Vibro-Insulator® Mounts is based on Natural Rubber.
Natural Rubber (NR)
Advantages: Outstanding resilience; high tensile strength; superior resistance to tear and abasion; excellent rebound elasticity (snap); good flexibility at low temperatures.
Limitations: Poor resistance to heat, ozone, and sunlight; very little resistance to oil gasoline, and hydrocarbon solvents.
Operating temperatures should not exceed 155° F (-40° F to 155° F).
Natural Rubber is not recommended from exposure to oil, gasoline, ozone sunlight.
NOTE: Loads for the K12's are calculated per linear inch. The maximum load specification for the K12 24" long (K120-51) is 24" x 80 lbs. = 1920 pounds.
Delivery is 8 weeks.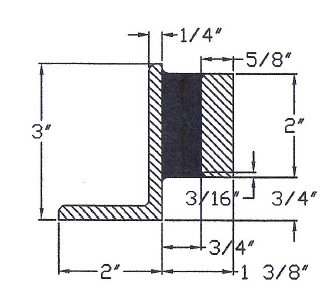 Use the sort keys located at the bottom of the table to find the exact Vibro-Insulator© you require. Please contact us for selection help.